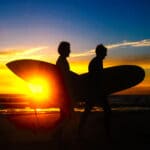 Always wanted to try surfing but never got around to doing it?
This is your chance!
Noordwijk has a lively surf scene with the Flying Pig bar as the meeting point for a lot of local surfers. The North sea offers plenty of opportunities for novice surfers and kite surfers all the way to advanced.
We have 2 foam boards that are free to rent as well as a couple of wetsuits that you can rent for 10 euro per use for the colder days.
Surf Schools
Beach Break: These guys have it all! They offer well priced lessons for surfing and kitesurfing as well as rentals of kayaks & stand up paddleboards. Whether you're just a beginner or have been hitting the waves for years, beach break has what you need. They've also got a vibrant bar serving food and drinks with great vegetarian and vegan options!
Lex Surf School: An up and coming surf school in Noordwijk, Lex is a local with a massive passion for surfing. Offering 1 on 1 lessons as well as group lessons and special events, Lex's enthusiasm for the sport shows through in his & his staffs friendly, attentive teaching.
Check the conditions!
Want to know what the current situation is on the beach and if the surf's good? Check the live camera of the waves with one of the links below: