SURFING
Noordwijk has an extended surf scene. The Flying Pig Beach can organize surfing and kite surfing lessons for you, we work with the best surf schools in town.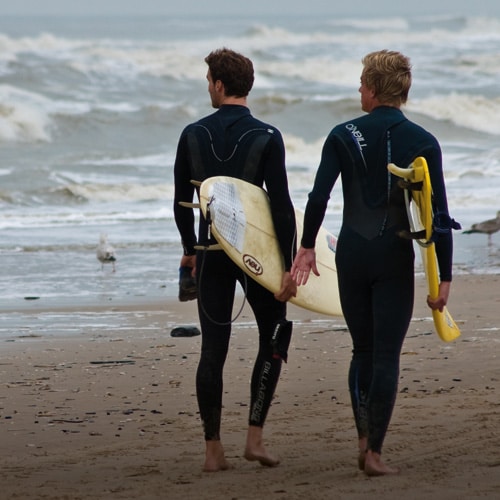 Surfing / Surf lessons
With 3 sandbars creating 3 wave breaks producing 0.5-4m waves, Noordwijk is perfect for beginner surfers trying surfing for the first time as well as experienced surfers looking to hone their skills. Don't forget to wear a wetsuit in the colder months as the water temperature can drop to around 8°c. We have 2 surfboards to rent for free through the hostel and wetsuits to rent as well. The Flying Pig Beach Hostel has a partnership with 'Lex Surf School'. Alex, a Noordwijk native and highly experienced surfer offers reasonably priced group and solo surf lessons for people of all abilities, from beginner to advanced.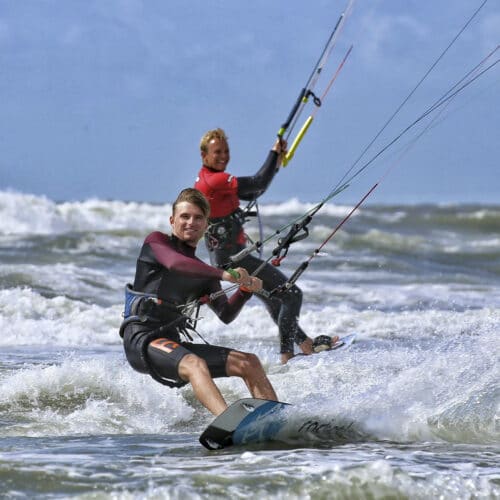 Kite surfers' paradise
Noordwijk is a Kite surfers' paradise due to high winds and good breaking waves. Kite surfers from around the world visit this small coastal town due to the perfect conditions. In fact, the conditions are so good that 3 world renowned, professional kite surfers started to learn on the beach here. At the north end of Noordwijk beach you will find Beach Break water sports centre. IKO trained professionals provide kitesurf lessons along with rentals of surfboards, kitesurf equipment, SUPs and kayaks. After your lesson there's no need to rush home, grab a drink or some food from the surf café at Beach Break.